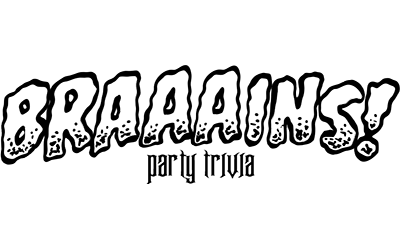 BRAAAINS! (Playdate)
A downloadable awesome game
TRIVIA...BUT WITH ZOMBIES!
Take on 1,000+ curated questions for a solo high score, competition with friends, or flex on the world in daily challenges!
CHALLENGING TRIVIA
Take on questions from our constantly evolving database of curated trivia questions from 15 categories such as literature, music, history, geography, entertainment, pop culture, food, and more.
Monthly updates will bring new questions and a set of daily challenges!
PLAY WITH FRIENDS
Compete locally with pass-and-play multiplayer mode, or show off your braaains to the world through daily challenges! See the daily challenge leaderboards at https://braaains.game!
Daily challenges are a daily-changing, rapid-fire set of questions that every player answers within 60 seconds. The faster and more accurate you are, the higher your score. Think you're the Lord of Lore? The Tycoon of Trivia? The Sultan of Semi-Useless Information? See how you stack up against everyone on the leaderboards!
GET THE MERCH

Now available! Get everyone's favorite victory animation on a t-shirt!
Purchase
In order to download this awesome game you must purchase it at or above the minimum price of $5 USD. You will get access to the following files:
Comments
Log in with itch.io to leave a comment.
Any more daily questions updates coming? :-(
This is a fun game! Is it possible to show a recap of all the questions at the end of a game? It would be great to find out the right answers to the questions I got wrong or be able to play with sound off and find out the question results at the end 😄
Whoops that's my bad! I thought I had one more day. I just posted a new update with the challenges updated. Enjoy!
This is a blast, but every time I scan the QR code to upload a daily challenge score, it makes me repeat the entire login and authorization process and then go back and scan the code again.
Apologies for that! My wife had the same complaint this week. I'm going to try to fix it this week. I'll post again when the fix is in 😊
Thanks for fixing the build number so quickly! I've got this issue too. Is it a cookies thing? I just go in and log in on your website before I scan the qr code, at the moment.
This game is alot of fun. Very clever. Well designed.
So what is the best way to update this game? Delete it from my Playdate and reupload it? Will I lose my data?
All your data should stay! When you download a new version and sideload, it should just overwrite the game/question data with new stuff and leave your user data/stats in place.
It should be indexed now (it takes a couple of days sometimes according to support)!
Same for me
Just kept going back to the authorize/login page when I tried to add my score.
Apologies for that! I fixed one bug and introduced another (which I've now fixed as well). Please try again. 😁